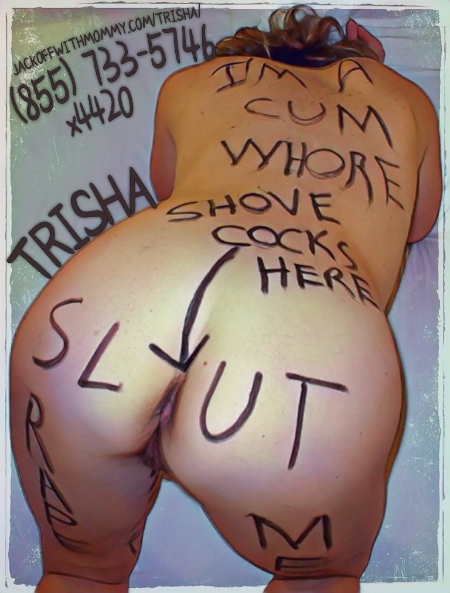 Being a mommy whore isn't humiliating or degrading or anything like that.  Not to me, at least.  I've been treated like a dumb cum slut for as long as I can remember.  It'll take a lot more than some dirty pictures of me with a little whore writing all over my body to make me feel any shame about being a cock loving, cum craving mommy slut.
I've been in about every pussy pounding position, every sadistically sexy situation you can imagine.  I've been in every form of bondage, every submissive apparatus you can think of without a doubt.  It's not my fault, I just like dominant men and they all liked trying to humiliate me and make me submit to their demands, and boy, did they have a lot of them.  So many, it's kind of hard to remember them all unless I sit, locked up in a cage, and think about it for a while.
Go ahead, give it your best shot.  Try to make me feel bad for wanting to have my cum cave gaped out by a gang of BBC's or needing to feel my asshole getting stretched out by a balled up fist.  I bet you can't.  What are you going to do, show the pics to my parents?  Call up my grandma and let her know how much of a whore I am?  Go ahead, she'll get so turned on that you'll just end up having grandma phone sex with her.  That old bitch is a crazy slut, too!