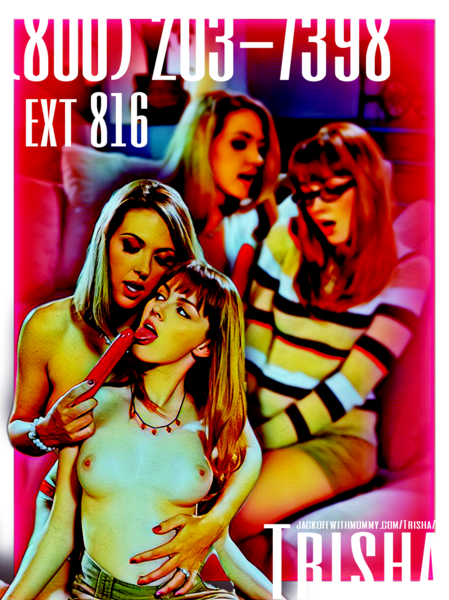 I love teaching a naive teen a thing or two about her own pussy.  Tuning a young one in to her own sexual desires makes my pussy tingle with delight.  I remember all of the unsure feelings that come with handing your fresh fuck hole over for someone else's enjoyment for the first time, exciting and a little scary all at once.  That's probably what makes me so good at putting their racing little minds at ease and making them feel relaxed enough to let me invade their unexplored holes.
My son's math tutor is a hot little uptight ginger who really needed to be shown that it's alright to make herself feel good or at least let someone else do it for her.  I don't know if it was my son's big ol' bulge staring her in the face for an hour as she struggled to get him to understand his studies or the sight of my bright red, road worn vibrator on the table next to them that had her going, but it didn't take much persuading at all by this mommy whore to make that anxious amber angel acquiesce to my audacious advances.
I took off her glasses and kissed her sweet, candy flavored lips as I stroked her milky white thighs.  She shivered as I ran my hands ever higher up her skirt toward her strawberry of a snatch and softly whispered "Take off your top." in her ear.  She nodded and stripped down without hesitation, revealing her newly budded boobies with nipples already standing at full attention.  I kissed my way down her body, sucking and licking on her titties, stomach and hips as I worked toward her creamy little cunt.  
I probed around her pussy a bit, making her squeal with anticipation as I stroked her lips with mine and gently nudged her swollen clit with my nose.  I lapped at her labia until my tongue slowly worked its way inside of her.  Once my tongue made it all the way inside of her, the future nookie nerd let out a breathy moan and came all over my face, screaming and wailing as she held my head in place and ground her super tight twat hard into my cunny kisser.  Breathing hard with her cheeks flushed red and legs spread wide, I could tell she was ready for more.
I peeled open her damp lips and pushed my ever ready rouge rocket into her virginal fuck duct with long, slow strokes.  Once her gash was used to the penetration, I turned the bad boy on and let it work its magic.  She came in 5 seconds flat, wailing and whimpering as she shook uncontrollably and squirted her teen pussy juice everywhere.
Now she doesn't just come over to help my son, she comes over to jack off with mommy, too.