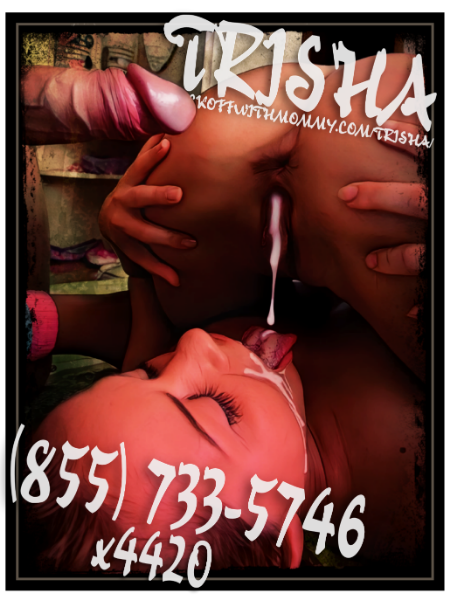 My daughters say they love breeding phone sex but I keep telling them that they're doing it all wrong.  They don't keep the cum inside of them for as long as they can to make sure that they get pregnant, they like to load share and squeeze as much of that sexy slit slammer slime out of their pussies as they can into each other's mouths.  No one has ever gotten pregnant like that, I don't know what they're thinking.
Not gonna lie, it's pretty cute.  They make a fun little game out of it and everything.  When they're tag teaming some big dicked teen neither of them knows who is going to make him lose it first.  Kind of like musical chairs only for cock and cum.  They make sure that boy bangs them in as many positions as possible before they take it to the next level.  Once their holes are happy, they flip into a 69 position and take turns being on top and bottom while whatever schoolboy is fucking them wails away on their tight twats.  
The girl on bottom really has the most control.  She can lick his balls and munch on his taint while he's giving it to whichever of my daughters is on top.  Hell, she can even pull his prick out of her pussy and suck all the juices off if she wants.  Sometimes the girl on bottom takes a shot in the mouth that way.  They prefer it in their pussies, though.  Once one of them is filled up, they scream out "White Waterfall!" and she squeezes her cunt hole and pushes hard until the jizz drips down out of her and into her sister's mouth.  They'll spit it back and forth a few times before they swallow it, too.  
One day they'll get a clue and keep all of that creamy sperm filled semen in their snappers and really have some pregnant phone sex with a guy.  Until then, I'll let them play their little pussy pleasing, jizz squeezing, cock snot swallowing ways.  They're still young, after all.  No need to push a pregnancy on them, right now.  If it happens, great, if not, that's super too.  As long as they have fun with random teenage boys and I get to watch it, I don't really give a fuck.