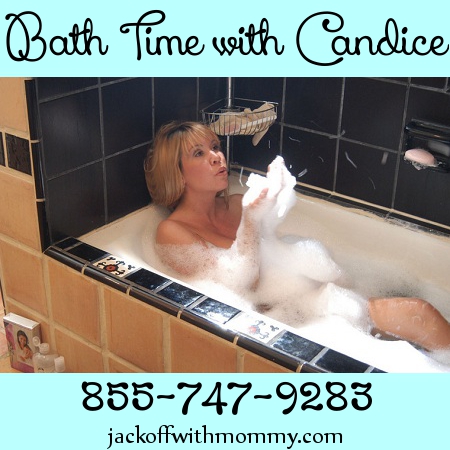 I was taking a me day. A bath with lots of bubbles, candles, nice soothing music. It was a bath made in heaven.
I honestly thought you were going to be gone for the day so I didn't bother to lock the door.
So imagine my surprise when after a nice, relaxing soaking session, I opened my eyes and say you standing there naked. Stroking a nice hard cock.
"Need help Mom?" you asked.
"Of course baby. I could always use your help." I purred and shivered as you sat on the side of the tob. Taking my wash cloth and rubbing it over my back for me, moving over my neck and then my breast. Spending extra time to make sure my nipples get all hard.
"Mom, you're so sexy. I want you."
I moan, the words alone making my pussy clench. I lean over and take you into my mouth. Your precum taste so good on my tongue. I want more, so I bob up and down while your hips do little thrusts into my mouth. Pushing you into my throat. I hear your breathing get hard and ragged, I know you're about to cum but I don't want you to cum in my mouth. We're trying to get you a sibling after all. So much to your disappointment I stop, stand, get out of the tub and lean over the counter. Letting you watch all those soapy bubbles trail down my ass and thighs and leaving my wet pussy open for you.
You waste no time, you want to cum so bad that you're on the very edge. So you come up to me, grab my hips and thrust hard and deep into my pussy. The wet slaps of our hips colliding fill the room as you fuck me like a beast. I feel that pressure of orgasm build and build and as I hear your groan of orgasm I feel my own push over. Making my pussy milk your cock for every drop of cum, pulling it deep into my womb.
"Oh god, Mom you're amazing." you panted, keeping your throbbing cock buried deep in me.
"Mmm… You too baby. Let's go finish that bath."