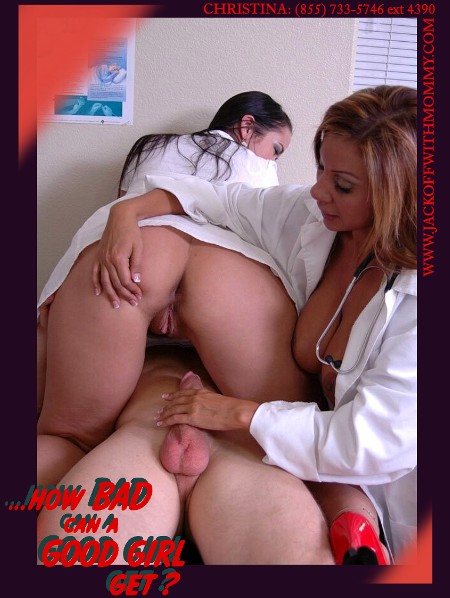 Mommy got her throat fucked at the dentistry this morning.. My mini dress with no bra or panties under paired with 5 inch stilettos had the Dentist needing a release. His Dental Assistant walked in on Mommy sucking dick, I didn't want the young slut to feel uncomfortable so I grabbed onto her hand and placed it on his sack.. I had her rubbing his heavy balls while he penetrated my throat.. I managed to slobber so much, my saliva seeped through the dental bib and left drool dripping down the center of my Big tits.
I sat up on the dental chair and slid his perfect hard cock right through the center of my perky breasts.. I grabbed his assistants hands and had her squeeze my tits together while I was fingering my cunt. My Wet mommy pussy was so fucking wet I could hear my pussy sloshing over the machinery. His cock was so veiny in thick, I flipped over and rested my arms on his assistants shoulders with my knockers rubbing against her scrubs.. Ass arched pleading for him to fuck me bareback..
He dropped his pants to his ankles and slid his meaty dick right into mom's Sloppy wet pussy. She became flustered I could tell she was totally turned on so I worked my fingers into her panties and rubbed her Bald shaved pussy.. I wanted to finish myself off with my fingertip vibrator while watching her clean my cunt juices off his cock.. A bit of persuasion and there she was  fulfilling My dirty Mom fantasies! A young slut deep throating cock while I made my clit quiver.. My legs trembled as I squirted watching her guzzle down his creamy load.. She spat the cum on my cunt and I slid my panties right up storing the steamy cum for later.