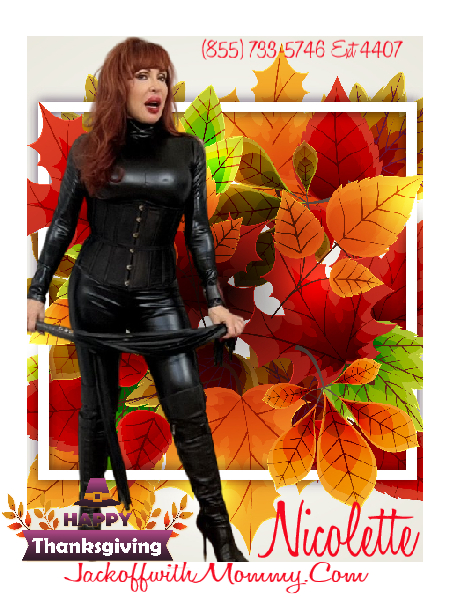 I find being a sissy boy mommy rewarding. None of my sons grew up to be sissy boys. However, they all have friends who enjoy feminization and other sissy boy things. And guess what? I enjoy encouraging these boys to be themselves. Nothing wrong with wearing mommy's panties and sucking cock if that is what you want.
Instead of one of my sons bringing me a sissy boy this time, my husband did. His best friend from college is a lowkey sissy boy, but his wife will not indulge that side of him. Sadly, I hear that from my callers too. Well, that is why I am open to helping sissy boys like Tyler. I can be any boy's sissy mom on or off the phone. Tyler's wife even gave her permission for us to have some fantasy playtime. So, we ran with it.
Tyler saw my sissy wardrobe and he looked like Charlie when he first entered Willy Wonka's candy factory. I mean this boy looked amazed. His eyes were as wide as the sky. I encouraged him to feel everything and wear what he wanted. He put on this lace catsuit I own and blossomed into a pretty girl. Do you know what happens to sissy boys when they put on something sexy like that? They transform. And they crave cock.
Sissy Training Mommy Helps You Suck Cock
Now that Tyler looked more like a Taylor, I needed to find some cock. I love my husband, but he never wants a male sucking his cock. I doubted he would want his BFF sucking his rod wearing his wife's sexy garments, LOL. So, I took Tyler to a local glory hole. Usually, this cock sucking mommy is the one on her knees waiting for random cocks to peek through the holes.
Not that day. My pretty sissy boy blossomed in her feminine outfit and sucked cocks for hours at that seedy glory hole. I beamed in pride watching Tyler finally get some dick. I even helped him set up a Grinder account. Since his wife gave us permission, I am going to make sure Tyler gets all the cock he wants when he gets sissy time.
Maybe your wife is not as open minded as Tyler's wife. But that does not matter. We can still enjoy some discreet sissy phone sex.