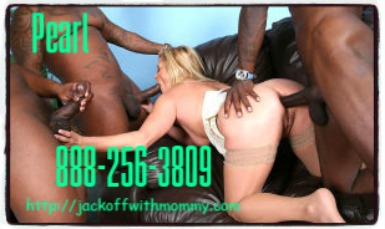 This will make you Jack off with Mommy for sure. I got a sample of the fun we're going to have in our sissy training class. I hand picked some big black studs who love to break in a new sissy pussy. Oh, we're talking 10 inches of throbbing nigga meat. I'll have you all dressed up for your first date with them. Mama will get down on her knees to demonstrate the techniques you need to learn. You better get that big dildo out and practice stretching that boy pussy so you can accommodate this much girth.
Bend over, little sissy, and show us your faggot hole. My nigga wants some of that cherry. It looks so tight. He'll make you squeal like a real girl as he humps that pretty ass. Let me demonstrate on how to eat this much cum. These guys are known for their potent semen. Open that mouth wide, you'll only be able to gulp that first squirt. Let it dribble over your lower lip, down your chin. Stick out your tongue and show him his cum. Now swallow and smile like a good faggot slut.
You're almost there. Now bring an ass toy and let's practice stretching your new boy pussy. Soon you'll be able to handle unlimited meat sticks all night long.