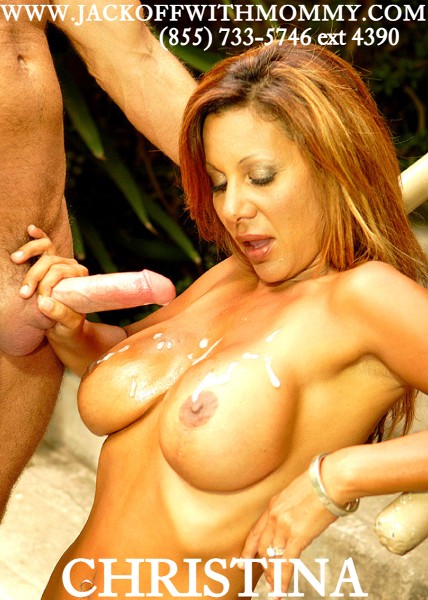 Mommy whore Christina is fed up with her stepson constantly jacking off and supposedly having blue balls. Every day I have to hear about how my stepson needs to watch porn to relapse his load of cum. Every other week I have to sit there during dinner and hear all about his Doctor visits and how his doctor had to do a surgical procedure so he could unload some of his massive cum shots. That is until one day, I wanted to see for myself why he always talks about how hard he cums. I didn't realize what I had gotten myself into until after the fact. One day John and I were home alone… I found it a perfect opportunity to get fucked by him because I had been deprived of young dick and also wanted to see this whole "cum hard" thing he always talks about.
I asked him to meet me in the backyard so he could rub his Step Mom with big tits with tanning oil… A great way to seduce any horny young man don't you think? As he was caressing my sunkissed body I noticed he was hard… Boldly, I went and grabbed his cock with my hands. Without hesitation, he pulled his cock out and dicked me down the right way… It was just what I needed. After making step-mommy whore orgasm multiple times I noticed he didn't get to get off… Immediately I asked him why and he said the only way he can get off is by jacking off with mommy. I got on my knees and with my tits propped up and began jacking him off with my knockers. Right when he reached his climax without a warning this son of a bitch orgasmed so much on me I couldn't believe it.
I mean he probably cummed for a whole minute nonstop all over my face, hair, and Big tits… My makeup was destroyed, I was left poolside covered in thick cum.. I couldn't even open my eyes… I kinda liked it but I didn't like that he just left me there after a great fuck and a Jack off with mommy session. Sucks because I jumped in the pool to rinse off and then had to call pool maintenance to come and clean up the pool water that was filled with cum.. ahh Mommy's pussy is so wet just thinking about the cum load. All I can say is W O W.