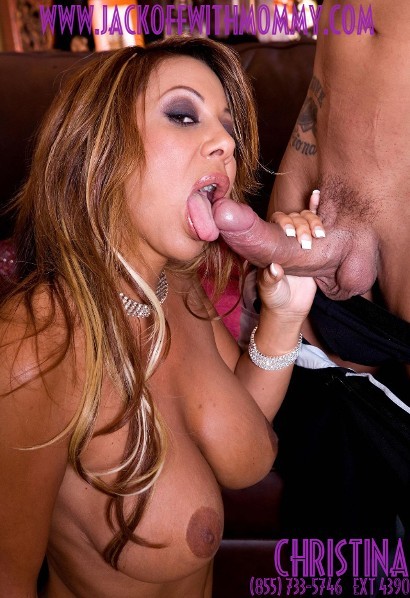 Stroke for mommy, but don't cum until I tell you to. As long as you follow my instructions you will be rewarded… Reach for the edge of your cock and squeeze your cherry bulbed shaft very tightly. Close your eyes and imagine your favorite Cock sucking mommy whore dropping her jaw,  preparing to slurp up every inch of your cock! Momma is going to make you a porn addict… All you will crave is the sound of my voice guiding you through masturbation.
I have exactly what your cock needs! Come on Lover boy; I want you to make a huge mess all over Mommy's tits. It's okay; I know you want to explode all over my chest, but you better hold back until Mommy tells you to do so. When I am ready; I want you to shoot out a big load for me, but first, let me decide where I should let you put it. This hot Mom with big tits knows exactly, how to edge you into the most intense climax you'll ever have. If you are on your best behavior, maybe I will let you slip your cock into my tight ass…
((Squeeze your cock tighter!)) Or —> How about you drench your cock in flavored lube so it can feel just as wet as momma's pussy.. Why flavored? Well, I want your cum to taste sweet and salty, I love the taste of berries mixed with your special cream. Mm, that's a good boy, continue jerking; don't you stop!! You can't take it anymore can you? Do you need Mommy to cool the head of your cock off by blowing on it? You've earned it Honey, go ahead and cum all over my Big tits and face. Good boy you earned yourself some more personalized Horny milf pictures of mine.