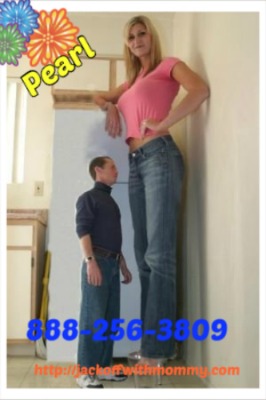 One of my favorite Jack Off With Mommy clients is a little Asian man named Johnny. Johnny loves his giantess girlfriend and I adore my little sissy. It's like having my own little doll. I dress him up and take him out on the town as my personal pet. It's so much fun to introduce him as my tiny boyfriend and make him sit on my lap or in a high chair. People think he must be packing a huge cock or a fat wallet, when in fact, he has neither. I just like the superior feeling it gives me making him into a little submissive slut.
Sometimes, we go out with my besties, Selina and Addison. We all pick up some big black studs. We know poor little Johnny is so jealous of their huge cocks since he is so tiny. Teasing him  makes us laugh so hard. We all get fucked up together and go to the Land of Giants.  There Johnny is a perfect sized human dildo for us. We cram him into each others pussies, drowning him in juices. He begs to be smaller. I tie a string around his feet and cram him inside of me, like a tampon. To humiliate him I ask my black stud to fuck me, pushing Johnny Tampon deep up against my cervix. We laugh and tell him that's what a real cock looks like in a pussy. Johnny gets so excited that his tiny cock spurts all over my insides.
Maybe you have an equally wild fantasy. Don't be shy. We love to roleplay the unique and unusual. Nothing is too crazy for us. Tell us your thoughts and we'll make it feel like the real deal.