Jack off with Mommy you know you want too. Just look at me. I am one hot as fuck Mommy. You know you want to jack off to my pictures. I masturbate to myself. I like to start with my tits, they are so very big. Hands covering them, I squeeze gently, massage them, until the nipples start to harden. Plucking at the nipples, rolling them between my fingers. Back and forth, pinch a little tighter. Hmm….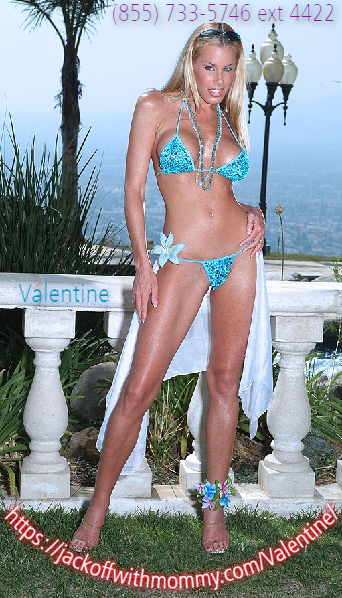 My nipples are hard and sensitive to the touch. Letting a palm caress over the nipple, leisurely my other hand moves down my side over my flat stomach, making small circles, legs shifting for I know I am getting wet. Building the sensation, a few small circles, the pattern taking me closer to my pussy. 
Not going to rush my own orgasm. Wanting to but forcing myself to be patient as my fingers part my folds. Hips rising instinctively, wanting to be touched. Fingernail grazes over the nub of my clit. Just a tease. Once more. 
Abandoning my nipples, I reach for my rose vibrator. Pinch my clit, hard. My wetness slicks my fingers. Finger goes into my pussy to see how wet I am. Oh god am I wet. I clench my muscles around my finger, Flexing. Little more. I move the finger in and out. A second joins. 
Rose vibrator is put against my clit. Just so the tongue touches and I turn it to setting one. My clit hardens. I gasp. Muscles clenching. Inserting the vibrator into my pussy I press into the feeling. 
Cum slick fingers return to my tits, plucking, teasing, pinching as the rose vibrator sends sensation after sensation through my body. Seeing my own juices on my tits, I lick it off. Higher and higher I climb. Clenching tighter. Almost there. I need more. Pressing a button the rose goes faster, pulsing harder. I shatter. Oh, yeah. That is what I needed most.