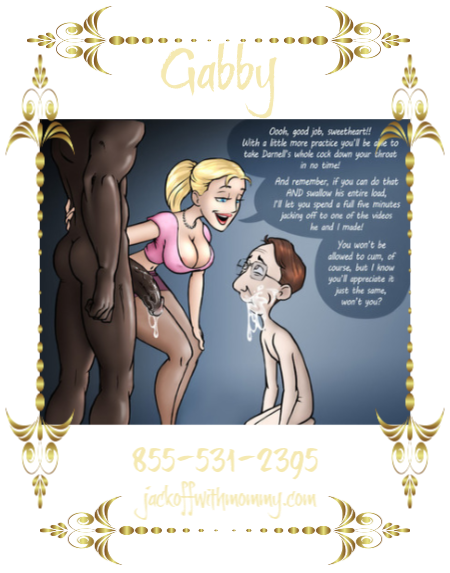 Tristan came up to me this morning and told me he wanted to show me something.  I thought it was something he made, or a repair he made to the house as we are still re-modeling it.  It wasn't either of those things.  It was the little cartoon that is posted above.  I am not sure if you can read it or not but this is what it says:
"Ooh, good job, sweetheart!!
With a little more practice you'll be able to take Darnell's whole
cock down your throat in no time!
And remember, if you can do that, and swallow his entire load,
I'll let you spend a full five minutes jacking off to one of the videos he and I made.
You won't be allowed to cum, of course, but I know you will appreciate it just the same.
Won't you?"
I had to laugh because it reminded me of the two of us.  I asked him why he was looking at Cuckolding Cartoons and he just blushed.  I said to him, "You are really starting to get into this aren't you?"  He blushed some more.  I kissed the top of his head and he pressed his face against my ever swelling belly.  He asked me if it was weird that he found himself getting aroused thinking about having another man's little one in my womb.
I told him no, it wasn't weird at all.  He kissed my belly then went back to looking at his Cuckolding Cartoons.  This whole interaction made me smile because it released any trepidation that I might have had.  I don't have any, but seeing him and watching him look that up on the internet let me know that he is just as happy with our arrangement as I am. I could ask for nothing more.