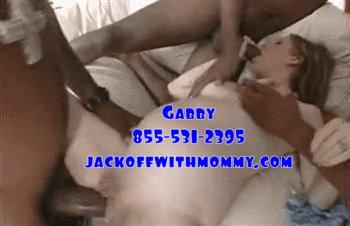 I really do enjoy playing with my Bulls.  What could be better? Having a few of them at once!  It was actually my Husband's idea, as an early Christmas present.  The little ones were at their Grandparent's house so we could Christmas shop and I was getting ready to leave.  My husband made me wear this really beautiful lingerie get up, I tried to tell him that I didn't want to get dressed like that to go shopping but he insisted.  I was mumbling under my breath because lingerie can be uncomfortable to wear for a long period of time.
He went downstairs as I finished getting everything on, then there was a knock at the bedroom door.  I was a little confused because my Husband usually doesn't knock when he comes into my bedroom, he can just come in.  I told him to come in and in walked three of my all time favorite Bulls! My husband came in and sat down and said, "Merry Christmas babes!"
I was so damn happy!  I showed off my lingerie and played with their cocks, my husband was doing his part by sucking them off to get them hard too.  We had so much damn fun!  We never did make it to go Christmas Shopping but I did get to be fucked most of the day by big black dicks!  Hubby also got a present, several actually.  I allowed him to clean me out between fuck sessions.  I really think he enjoyed all the Cream pies that he had to gobble down.  What a perfect early Christmas present!